This has been a busy couple of weeks in terms of Internet of Things technology announcements. In particular, two titans from the mobile space, Samsung Electronics and Qualcomm are attempting to catch up with Intel with processors aimed at all manufacturers of 'things'.
Qualcomm announces two new products for its $1 billion IoT segment
Qualcomm are making a very strong push in its "Internet of Everything" as its smartphone technology portfolio which is no longer benefiting from growth rates it was previously accustomed to. At a flagship event, it announced a couple of devices, one (QCA401x) to be used on low-cost end nodes such as sensors, and another (QCA4531) more suitable for multi-protocol gateways and hubs. Qualcomm remains committed to its AllJoyn standard for discovery of 'things' as well as remaining focused on WiFi and Bluetooth (both staples of the smartphone world) as its main connectivity standards, rather than Zigbee and Thread preferred by other players. For example, it partnered up with LIFX to produce a range of WiFi-connected LED lightbulbs. For more see: https://www.qualcomm.com/products/internet-of-everything
Samsung announces three new products for the Internet of Things
Not to be outdone, Samsung announced a family of Systems-on-a-Chip (SoCs) for the Internet of Things. Like Qualcomm, Samsung is facing pressures on its traditional smartphone market, where it competes as both a silicon and smartphone manufacturer, and so is rolling out a family of chips for the Internet of Things, called ARTIK. Like Intel, with its Edison and Curie family, Samsung has gone to great lengths to make its proposition developer-friendly, targeting specifically the maker / start-up community by its use of the Arduino development environment (IDE) and other cloud-based developer tools. In this area at least, Samsung appears to have the edge over Qualcomm.
Samsung claim that the smallest module, the ARTIK 1 is 12mm by 12mm, or using the standard unit of measurement used in the electronics industry, about the size of a Skittle. This chip is squarely targeted at small, battery-sensitive applications such as smartwatches and fitness bands. Nevertheless, it is a powerful device, sporting a dual core processor, a Bluetooth low-energy radio and a sensor suite (gyroscope, accelerometer and magnetometer).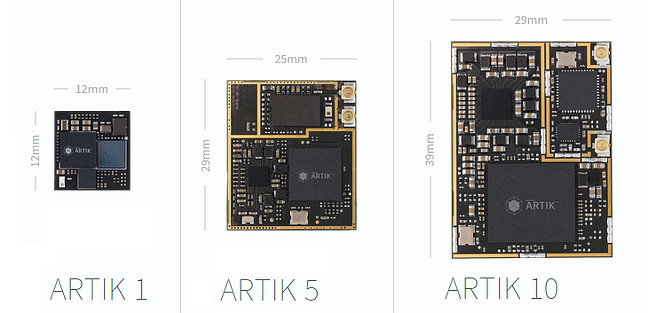 The ARTIK 5 is more than twice as large, but has similar processing power to a low-end smartphone (dual-core 1GHz), as well as a whole host of connectivity solutions, including WiFi, Bluetooth and Zigbee. The eldest brother in the stable, the ARTIK 10, provides 8 processor cores, supports full 1080p HD video at rather silly 120 frames/second, thanks to a high-end graphics processor.
I must say that this is quite an odd configuration for a family. While the Artik 1 is well suited to wearables, and the Artik 5 to hubs and gateways, the Artik 10 seems rather over-spec'd for IoT applications, and there is no product targeted at fixed low-cost sensors which do not require motion sensors. Clearly Samsung appear to be more interested in the high end of the market – e.g. drones and robotics than where the billions of devices will be.
In summary
Both Samsung and Qualcomm have decided that the fastest route to IoT riches is to adapt products from their existing product line-ups and re-skin as propositions aimed at the IoT space. Hence we have WiFi-based products evolved from Qualcomm's Atheros WiFi product line, pushing AllJoyn as the main discovery protocol, and a series of smartphone-derived products from Samsung. It will be interesting to see how the semiconductor battle, including players bruised by their failure in the mobile space such as Intel, Freescale and Texas Instruments will pan out.